Tropical Storm Laura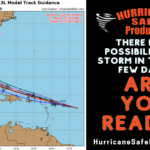 There is a threat to Florida within the the next couple of days from Tropical Storm Laura. The National Hurricane Center estimates this storm to possibly cross Florida…are you prepared? Do you have all your hurricane protection, disaster supplies and information that you need to stay safe?
At Hurricane Safe Products, we want you to be ahead of the storm. Prepare now if you need extra shutters, screws, parts and supplies. As the storm gets closer and the projected paths tighten, it may become harder to find things you need.